Climate of the earth has never been strictly constant in the recent almost 5 billion years. The shorter or longer time changes and fluctuations lead to changes in state of the geographical skin, or, with its more recent and frequent name, the environment. This is why a fourth sub-chapter has been opened in our homepage, for the response to effects of clime given or due by the society, besides the other three ones, i.e. past, present (recent past) and future.

Climatology is embedded into various other sciences, which often leads to discussions even on the concepts of climate, as well as of climate change and fluctuation. Even more frequent and heavy discussions are observed on causes and likelihood of continuation of the present climate change, since the times we are faced to the risk of human-induced climate change. Our homepage does not intend to prefer any view or scientific result against the others in these questions. Nevertheless we still transfer a system of scientific paradigms via selection of the sites and proportions of the views reflected in this selection. But, this is definitely one of the missions of the GEOGRAPHY nEtQUIPMENT to systematise and forward that part of knowledge which has been established by the professional (not by the "official") science.

Probably, you have already recognised, Dear Reader, that we have a separate entry called Meteorology, as well. It is not our intention, by this, to put our vote to such a classification of sciences. It has a rather practical reason, since there are so many interesting and useful sources in both topics that this may explain the separation, itself. So, materials and referring homepages about the weather, i.e. on definite sequence of the atmospheric states for shorter period of time are arranges into Meteorology. Those questions in which these states correspond to longer period of time, with no special emphasis on their sequence, but treated as statistical ensembles, i.e. to climate, we sorted into Climatology.
Prekambric és Paleozoic (4.6 billion - 230 million years)


Archaic Era (4.6 billion - 2,5 billion years)
Proterozoic (2.5 billion – 545 million years)
From Cambrian until Devonian (545 million – 360 million years)
Carboniferous and Permian (360 million – 230 million years)


Mesozoic and Tertiary (230 million - 2.4 million years)


Triassic (230 million -195 million years)
Jurasic (195 million – 145 million years)
Cretaceous (145 million – 65 million years)
Tertiary (65 million – 2.4 million years)


Pleisztocene (2.4 million – 10 thousand years)


Early Pleisztocene until Günz (2.4 million – 820 thousand years)
Late Günz until Mindel (820 thousand – 320 thousand years)
Late Mindel until Riss (320 thousand – 120 thousand years)
Late Riss until Würm (120 thousand – 10 thousand years)


Holocene (from 10 thousand years BP until Present Time)


Early Holocene until the Optimum (10 thousand - 5 thousand years BP)
Late Optimum until the Mediaval Optimum (5 thousand BP –  1000 AD)
The Anthropocene (from 1750 until Present Time)


Climate of the Present


Climate, climate forming factors


Climate, its concept and spatial scales
Spatial and temporal characteristics of the solar radiation
Altitude and substance of the surface
Role of atmosphere and oceans in climate formation


Climate of the Earth


Zonality of climate and its anomalies
Classifications of climates in the Earth
Climate of distant continents
Climate of Europe


Climate of Hungary: averages and extremities


Solar radiation, radiation balance
Temperature characteristics
Precipitation and humidity conditions
Air pressure and wind conditions


Topo- and microclimates


Microclimate of vegetation
Effect of topography and exposition
Meso- and microclimates of horizontally non-homogenous surfaces
Indoor microclimates


Climate of the Future


Changes in climate forcing factors and radiation balance

Observed changes of climate

Modelling and understanding the climate system

Global and regional predictions (scenarios)


Climate impacts and response activities


Adaptation of the Nature and the Society to the actual climate


Effect of climate on geomorphology of the Earth
Effect of climate on the geographical distribution of plants and animals
Our built environment from the Equator to the Poles
Physiological and social signals of adaptation of homo sapiens


Impacts and adaptation challenges of the anthropogenic climate change


Climate impacts on water resources and water demands
Climate impacts on plants and animals
Climate impacts on energy demands and transport
Climate impacts on air quality and urban heat islands


Conditions and agenda to mitigate the climate change


Population of the earth and the per capita consumption (production)
Energy demand of a consumption (production) unit
Greenhouse gas emission of a unit energy consumption
International agreements of climate change mitigation


Impacts and responses in Hungary


Scientific research on climate impact
First initiatives of the intentional adaptation
On climate mitigation
Law sources on climate change in Hungary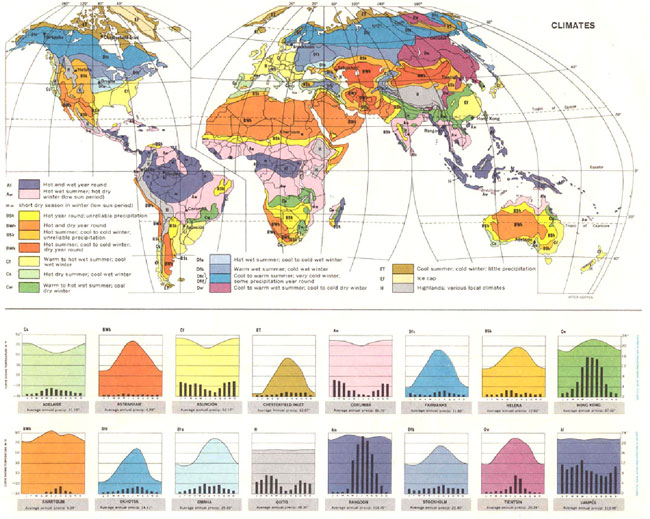 Internet source (downloaded on March 30, 2009).
http://fp.arizona.edu/kkh/climate/images/Global.climate.map.med.jpg